AIPSN Joins the Global March for Science on 14th April 2018
The All India Peoples Science Network (AIPSN) decided to join the
Global March for Science to on 14th April, 2018
. The AIPSN sees a pattern in the attacks on science and reason across the world. The US President Trump's denial of climate science, and the current Indian central government Ministers' rejection of evolution, and other scientific advances, are prime examples.
See a Video report here.
Peoples Health manifesto-2019 by Jan Swasthiya Abhiyan (People's Health Movement India)
As the General Elections-2019 are fast approaching, Jan Swasthya Abhiyan activists are pushing the political structures to address the issues plaguing people's health by releasing a 'People's Health Manifesto-2019'The manifesto demands increasing the public expenditure on health to 3.5 per cent of the GDP in the short-term and absorbing the Ayushman Bharat health insurance scheme—based on the discredited 'insurance model'—under a strengthened, well-funded public health system and a right to health act which includes a patients charter. The People's Health Manifesto-2019 in English and Hindi are given here
National Convention of AIPSN on Medical Education and Strengthening of Public Health Care Services
The Health Sub-Committee of AIPSN recently organised a National Convention on Medical Education and Strengthening of Public Health Care Services on 21 and 22 December in Hyderabad. The meeting was hosted by Jana Vignana Vedika- telangana, had around 100 participants from 15 states of the country. The convention was a avenue to discuss creative approaches to address the issues of medical education and public provisioning of healthcare. find below, the note, schedule, writeups and presentations. 1) Concept Note 2) Schedule of meeting 3) Writeup on technical matters 4) Presentations ( Day 1: 4 talks and Day 2: 5 talks)
The Peoples Science Movements and the Peoples Health Movement present the charter of demands that articulates its understanding and its demands. There are 13 points that cover Health Care Related, Social Distancing and Human Rights, and Redressing Economic Inequity- as cause and consequence. While immediate executive action in the form of isolation of patients and quarantines, and a high pressure campaign for social distance is most welcome, this would not be sufficient if community transmission is established and the pandemic peaks. The country is particularly vulnerable because of a high degree of past neglect of public health services, and the privatization of healthcare. The country is also vulnerable because a large section of population is struggling to meet their minimum basic necessities and the last decade of economic and social policies have pushed them to the brink. In such a social and economic context, this epidemic may prove the last straw and lead to an unprecedented catastrophe unless the government pays heed to the entire charter of demands we present here.
What the Government must do on COVID19 ?
A charter of demands by the Jan Swasthya Abhiyan and All India People's Science Network published in scroll.in https://scroll.in/article/956326/13-demands-what-the-government-must-do-to-tackle-coronavirus-in-india
Weekly Update of Statement 24th March
// English , Hindi, Bengali ,Tamil, Telugu, Odiya versions available in post // As we go to release this statement, news comes in of the 21- day nation-wide lockdown that the government has announced. We are seriously concerned that the government is promoting and pushing lockdowns and social distancing as the only effective method against the pandemic, when the evidence points to social distancing being one among many actions that governments must take, it may be necessary but in itself not sufficient. On lock downs the evidence is far from clear, and we know that nations like South Korea and Taiwan have done well without lock downs. We are appealing to the government to learn from the wide testing, isolation and tracing done in South Korea, and in all successful national control efforts. At best lockdowns buy time for governments to ready their health systems. It is in the latter than the government must focus. We are also appealing to the government to plan its lock downs based on good quality data of where the disease is spreading- and focus its actions in such districts or states, instead of shutting the entire country down. We are concerned at the high-handed and violent methods adopted by the Police and bureaucracy during lockdowns rather than a much needed empathetic attitude. We are also most disturbed by reports that many essential health services including outpatient services and other health programmes such as TB, HIV and maternal health services could be affected by both the lock down and diversion of all resources and attention and efforts to this one disease. Moreover there is absence of any economic and welfare measures for daily-wage earners, unorganized sector workers and out-of-state migrants. The net deaths due to all these collateral effectors of the lock down may outweigh the limited advantage lockdowns can provide.
Covid-19 Pandemic Poses Fundamental Challenges to all Societies
Quick and widespread testing and quarantine will help tackle the spread of Covid-19, not ultra-nationalism or hyper-capitalism.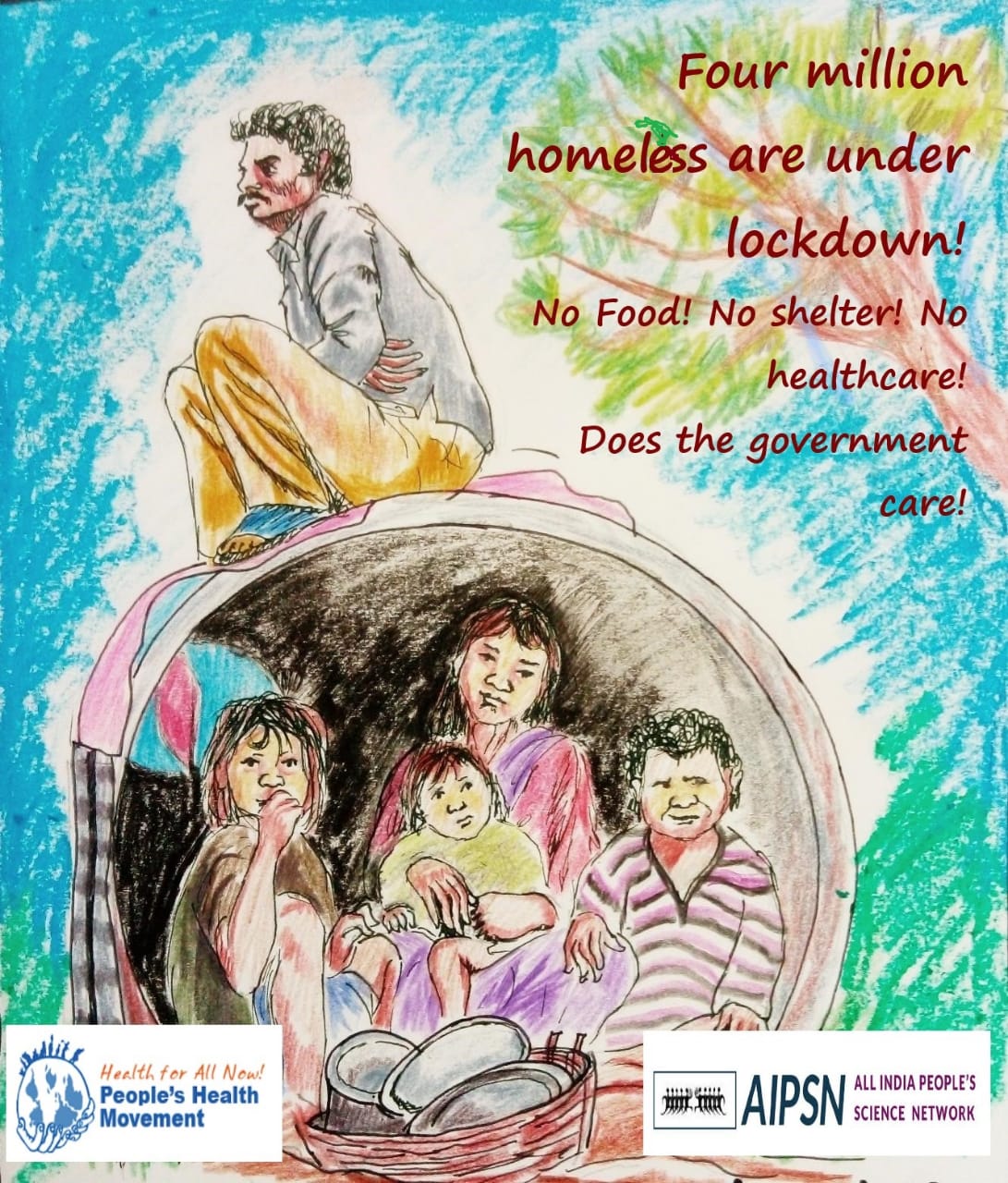 Essential Health Services cannot be suspended during the lockdown
Jan Swasthya Abhiyan and All India Peoples Science Network express their deep concern over the poorly implemented lockdown, especially the closing of regular clinical services in public hospitals // English Hindi Tamil versions available // ... Even as this report was ready for release we have reports of a huge "distress reverse migration" within the nation. Individuals and families stranded in cities without work, food, housing or security, are forced to trek back home to their distant villages, in the hot sun with no support of food, water, shade or rest, or hitching rides in crowded passing trucks at considerable expense, and subject to hostile action by authorities on the way intent only on imposing the lockdown. Those migrant, unorganized sector and daily wage workers who have been left behind in metros, cities and towns because of the lockdown with no transport available to their native villages/towns, find themselves without income, shelter, and even food, with state governments struggling to cope with the problem in overcrowded relief camps, again exposing these workers to infection. Even before the nationwide lockdown was imposed, anticipating this move and in view of the severe slowdown of economic activity due to industry closures, distancing or other measures, migrant labour and their families were fleeing metros and cities in huge numbers by long, overcrowded train or bus journeys, exposing themselves and others to infection, paying exorbitant amounts for last-mile journeys, and now face hostility, uncertain futures and potential spread of the Covid19 virus in their native villages and towns with already poor health care. This is a huge humanitarian crisis in the making.  With respect to lock-downs, we call on the government to urgently consider the following 7 measures proposed here.
Letter to Prime Minister Narendra Modi
    Access to Free Testing and Free Treatment for COVID-19 Therefore, we urge the Government to announce and follow a free test and free treatment policy in dealing with this public health emergency, and make the necessary cost-sharing arrangements with the private sector for its services. Such a responsible approach would enable the Government to fulfill its duty in protecting peoples' health and also ease any overwhelming burden on the public sector, enhancing our collective efforts to contain the disease. We request you to instruct the relevant Government ministries and offices to: * immediately ensure testing for COVID-19 as per the testing protocol in private laboratories free of charge to patients, with reporting of test data to appropriate centres •*mandate all test results should be made publicly accessible and put in an open repository * make necessary arrangements to extend treatment for COVID-19 even in private healthcare institutions at no cost to patients •*provide for full disclosure of the prices at which test kits are being supplied by each manufacturer as well as the costs of testing in public and private laboratories •*accelerate the evaluation of pending applications of RT-PCR test kits for COVID-19 and subsequent approval by CDSCO of kits passing validation, and provide appropriate support for scaling up production to reduce costs * ensure timely procurement and supply of test kits approved by CDSCO for supply to Government and approved private laboratories for testing •*take urgent steps to secure supplies and to promote local production of reagents, raw material of reagents, and other physical components used such as swabs which are used in testing We urge you to expedite the action of the Government on our proposals provided through this letter. Sincerely, Jan Swasthya Abhiyan (JSA) All India Drug Action Network (AIDAN) All India Peoples Science Network (AIPSN)
Advisory to State and Central Governments – On strengthening health systems to manage the COVID 19 pandemic
The letter written on behalf of JSA and AIPSN to Secretary, Dept of Health and Family Welfare, Govt of India contains the "Advisory to State and Central Governments - On strengthening health systems to manage the COVID 19 pandemic". It provides a detailed note prepared in a participatory and consultative manner by a number of organizations and concerned citizens who are part of our network of civil society organizations and peoples movements.... We note that the country is going through a lock-down which has brought immense hardships to the majority of the people. The only justification for such suffering is to give time to the health systems to prepare for the oncoming epidemic.  We have noted the significant number of measures that government has announced to step up the supply of testing kits, and PPE and ventilators, but we are worried that it would be little and late. From our interaction at state level, we are deeply concerned that the preparations are patchy, slow, and selective. In our enclosed advisory, we have put together the very many aspects on which all state governments and the state governments needs to take immediate action. We demand that urgent action be taken on each and every one of these suggestions. We also call on you to include representatives of our organizations in monitoring the pace and comprehensiveness and quality of preparation. We are also releasing this statement to the media so that they can also be informed on what, in our view, requires to be done. This would promote early identification of gaps and this would strengthen the effort at preparation. We are also issuing an advisory to people and communities on what they require to do to protect themselves and to be of assistance to frontline staff of the department and all others who are working in partnership to help combat this epidemic. We would also be working to ensure social solidarity in this time of crisis. The letter concludes saying "The State and district level units of peoples health movements and peoples science movements and of a wide variety of civil society organizations and trade unions and workers associations stand ready to help the government and communities in combatting this pandemic and the humanitarian crisis that both the pandemic and measures to contain it have led to. The government must make use of this resource."
On the Personal Protection Equipment (PPEs) for Healthcare Workers in the Light of Increasing Numbers of COVID-19 Patients
The JSA and AIPSN draw the attention of the public and the media to the major crisis that has developed in health worker safety due to the lack of PPEs. Not only will the healthcare staff be at higher risk of getting the infection, widespread infection in healthstaff would sharply decrease the capacity of the country to delivery health care services in both the public and private sector.  To increase production of PPE and ensure safety of healthcare workers, we make the following demands from the government:  1. Urgently ensure availability and free supply of PPE to all health workers. directly or indirectly providing care for COVID 19 patients at per their level of risk.  Towards this end government should revisit its specification and guidelines for use.  2. Private hospitals should be directed to follow the guidelines and not put their staff at risk. 3. Include all health workers seeing general outpatients as also at higher risk due to unidentified mild and moderate and even asymptomatic cases in circulation and develop recommendations on PPE for them. 4. Scale-up the production of PPEs within the country. Government should identify the products that are not currently manufactured in India and within a short deadline seek proposals and technically and financially support the manufacturing of those components in a decentralised manner so all states have at least one manufacturing unit.  5. In order to enhance the number of manufactures, government should publish the designs and blue prints along with the specifications and  convert largescale apparel production firms to start the immediate production of PPE components.  6. In order to expedite the procurement and supply of PPE equipment, government should involve more public sector establishments.  Currently, the government has given HLL Lifecare Limited, a government-owned company, rights for procurement of PPE. Approval for more public sector institutions in the procurement would speed up the procurement and supply.  7. issue guideline for the appropriate disposal of PPEs used by health workers as well as face masks that public use  8. Ensure transparency with regard to the procurement prices and suppliers and the number of procurement.   9. Set up an Expert Committee to establish PPE requirement specifications as well as guideline for use in the Indian context. Its role should include constant revision in light of new and emerging data.
2nd April – Weekly Update on COVID19 situation
The update has 5 parts: 1. Making Sense of the numbers:: Where are we in the epidemic curve 2. The lock-down and its sheer brutality 3. Do lock-downs work? 4. Health system preparedness 5. The peoples movement response Part 5. The Response from Peoples Movements and Communities: 1. This week has also seen the build-up on a major response across people's health movements, people's science movements, women's organizations, trade unions and associations of working people, civil society organizations and community based organizations. These organizations have also sought and got support from a number of progressive intellectuals and scientists and public health experts. 2. The JSA and the AIPSN have been holding consultation on Skype and have tried to understand the developments, critically review and in consultation with domain experts brought out a number of papers and statements that can inform their own membership and the general public. They have also articulated demands for better COVID 19 control and for better mitigation of the social and economic costs of the lock down through a charter of demands and a number of press releases and petitions to the government. 3. In addition to these statement, the JSA and AIPSN have launched campaigns to inform its own members and the general public of the dangers from this epidemic, how to keep the community, themselves and the public safe and to counter fake news, stigmatization and victim blaming messages that emanate both from sections of the government and communities. (See PHM Advisory for Families and Communities, and PHM FAQs on the COVID 19 pandemic (http://phmindia.org/2020/03/28/advisory-for-workers-cleaning-hands-in-low-resource-settings-and-protection-in-crowded-places/ ). There are also short videos and WhatsApp posters that are available.) 4. Because of the lock down, extensive field level mobilization and community support action has not been possible, though in many states, organization who are part of this network are engaged in organizing community kitchens. Once the lockdown lifts, a major effort at social bonding and mobilization to counter hate campaigns, and provide support to affected families and communities, is being planned. 5. We would be sending this weekly update along with a special press release that would  a) demand a review of the lockdown and an phased withdrawal of the same; b) an acceleration of work in preparing the health systems for the epidemic through a more comprehensive approach and c) a call for much more participatory and less authoritarian approach to controlling and mitigating this pandemic.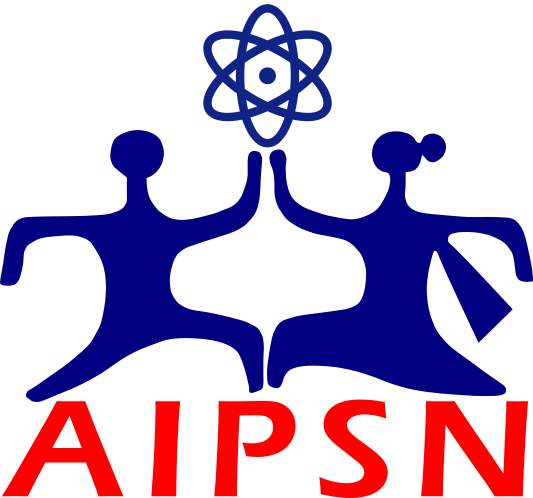 Press Release   "May there be light!" 5 April 2020
Light came to Iceland in their efforts against the COVID19 disease. Even as the first cases were reported in China, Iceland led by a Prime Minister who is the second woman to hold that post and former chairperson of the Left-Green Movement made preparations to fight the spread of the corona virus (Sars-Cov-2) which all knew was bound to happen. Iceland produced indigenous kits and made testing free and readily available. Daily press briefings were held to update the public on the COVID19 situation since the end of February.  Focus was on transparency and taking the people along in a scientific and friendly manner. Of course, Iceland is smaller even than  Kerala  yet its efforts to fight the epidemic have lessons for all.   On January 30th the first COVID19 case was reported in India. The Union Government set up a Science and Technology Empowered Committee to take speedy decisions on research and development related to the virus causing the disease. In the beginning of April, we are still racing to develop and produce test kits indigenously. Our testing rate is extremely low and far below what is required. Medical personnel and other health workers and allied staff are in dire need of Personal Protective Equipment (PPE) which are in severe shortage. Hospital infrastructure to handle severe cases of COVID19 is woefully poor, even in urban areas, and pitiable in rural areas. Following the ill-planned  21-day nationwide lockdown announced with just 4 hours notice 24th March, there has been huge unanticipated and uncontrolled movement of jobless, desperate and hungry migrant labour, loss of standing crops and other agricultural produce causing huge distress for farmers, who were unable to harvest and sell the produce, as well as to farm workers. Small and medium scale enterprises are facing terrible hardships. About 80% of the Indian workforce in the unorganised, daily wage and self-employed sector face a daunting loss of daily subsistence and livelihood. Essential goods and services including food stuff are paralysed, even after government permitted their movement including across state-borders, and retail shops are running out of stock. Even hospital OPD services are unavailable, and no transport is available even for emergencies. Unfortunately, through its actions and messaging, responsibility for overcoming the COVID19 hurdle has been  thrust on the people, while there have been numerous lapses and missteps on the part of the government such as allowing lakhs of foreign and Indian nationals to enter the country unhindered even in the first half of March, without rigorous tracing, quarantine and testing, resulting in hundreds of infected persons wandering all over the country adding hugely to the rise in cases. Despite this, people were urged to clap, and bang pots and vessels from their balconies and doorsteps, even at the cost of physical distancing, in appreciation of the medical and police personnel who were working to keep people safe. Immediately many pseudo-scientific theories were floated that sound vibrations will kill the virus, that NASA satellites had recorded evidence of this. We are being called upon on 3rd April, to switch off all indoor lights and light candles, lamps or shine torches or cell phone lights for 9 minutes starting at 9pm on Sunday 5th April. Spurred on by the imagery mentioned of a Ram Baan to fight the coronavirus, once again there is a spurt of pseudo-science messages including from government sources (which were later deleted) that this light will kill the virus through some mysterious "quantum" process. The Make Noise event, replicating such events in Italy, is now being followed by the Make Light event  replicating the "Let there be Light" nationwide event in the US on 1 April 7pm. These were social movements of solidarity, not arising from a government diktat.  Efforts to raise the spirits, perhaps even to generate a sense of solidarity, may be appreciated. But it cannot hide the hazards faced by medical professionals in bravely tackling the COVID19 disease in the face of shortage or non-availability of protective equipment, or sometimes even resorting to jugaad motorcycle helmets and goggles, and plastic sheets instead of prescribed coveralls. Solidarity leading to collective action needs empathy with the poor and now severely deprived workers, and bringing all sections of the people together for the common good, above all for effective planning and implementation by the Government keeping in mind the needs of the people. With this in mind, we call upon the Government to: Light the life of Health workers with adequate PPEs Light the life of Covid Patients with adequate Testing Light the life of Poor with adequate Food Light the life of the Workers and Farmers with Economic and Medical support. All India peoples Science Network and its member organisations and its members will send the following tweet to the Prime Minister and request all other movements also to tweet to make a trending twitter storm: Let there be light, in people's lives, with food, testing and protection. सबका जीवन हो रौशन, सुरक्षा, वायरस जांच और भोजन In addition on 5th April at 9pm for 9 minutes and more, the AIPSN has requested member organisations and its members to sing or play the song Hum Dekhenge by Faiz Ahmed Faiz to show that the people will see the light that gives life.